You are here
Back to top
Fleishman Is in Trouble: A Novel (Hardcover)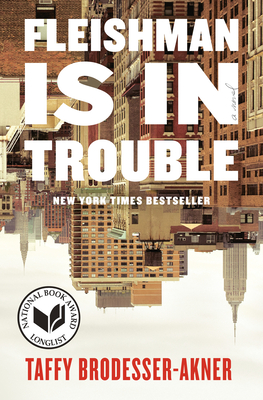 $27.00
Email or call for price.
Description
---
NEW YORK TIMES BESTSELLER • NATIONAL BOOK AWARD LONGLIST • "A masterpiece" (NPR) about marriage, divorce, and the bewildering dynamics of ambition

Now an FX limited series on Hulu, starring Claire Danes, Jesse Eisenberg, Lizzy Caplan, and Adam Brody

ONE OF THE TEN BEST BOOKS OF THE YEAR: Entertainment Weekly, The New York Public Library
ONE OF THE BEST BOOKS OF THE YEAR: The New York Times Book Review, Time, The Washington Post, USA Today Vanity Fair, Vogue, NPR, Chicago Tribune, GQ, Vox, Refinery29, Elle, The Guardian, Real Simple, Financial Times, Parade, Good Housekeeping, New Statesman, Marie Claire, Town & Country, Evening Standard, Thrillist, Booklist, Kirkus Reviews, BookPage, BookRiot, Shelf Awareness

Toby Fleishman thought he knew what to expect when he and his wife of almost fifteen years separated: weekends and every other holiday with the kids, some residual bitterness, the occasional moment of tension in their co-parenting negotiations. He could not have predicted that one day, in the middle of his summer of sexual emancipation, Rachel would just drop their two children off at his place and simply not return. He had been working so hard to find equilibrium in his single life. The winds of his optimism, long dormant, had finally begun to pick up. Now this.

As Toby tries to figure out where Rachel went, all while juggling his patients at the hospital, his never-ending parental duties, and his new app-assisted sexual popularity, his tidy narrative of the spurned husband with the too-ambitious wife is his sole consolation. But if Toby ever wants to truly understand what happened to Rachel and what happened to his marriage, he is going to have to consider that he might not have seen things all that clearly in the first place.

A searing, utterly unvarnished debut, Fleishman Is in Trouble is an insightful, unsettling, often hilarious exploration of a culture trying to navigate the fault lines of an institution that has proven to be worthy of our great wariness and our great hope.

Alma's Best Jewish Novel of the Year • Finalist for the National Book Critics Circle's John Leonard Prize for Best First Book
About the Author
---
Taffy Brodesser-Akner is a staff writer for The New York Times Magazine. She has also written for GQ, ESPN the Magazine, and many other publications. Fleishman Is in Trouble is her first novel.
Praise For…
---
"This glorious debut has the humor of Maria Semple, the heart of Meg Wolitzer, the lustiness of Philip Roth, and a voice that is pure. It's wild and wonderful and goes in so many directions, each with profundity—my favorite thing that novels can do. How does one's favorite journalist become one's new favorite novelist? With this book."—Emma Straub

"When his ex drops the kids off and doesn't come back, a father of two revisits the choices that led to this moment. He searches for answers, hilariously and heartbreakingly avoiding the darkest questions. Brodesser-Akner's debut is a referendum on marriage, friendship, and how we live (and love) right now."—People

"Whip-smart, gleefully scatological . . . [Brodesser-Akner] aims a perfect gimlet eye at the city's relentless self-regard. . . . But her best trick may be the novel's narrator: An elusive presence identified at first only as an old friend of Toby's from their study-abroad days, she turns out to be both the book's Trojan horse and—in a brilliant third-act pivot—its greatest gift, transforming a fizzy comedy of manners into something genuinely, unexpectedly profound."—Entertainment Weekly

"Many novelists have written excellent fictional indictments of interpersonal and systemic sexism. Not since Teju Cole's Open City—a very different book in all other respects—has a novelist put the reader on the wrong side the way Brodesser-Akner does. To do so, she uses a lot of intelligence, a lot of anger, a great sense of humor and a whole new variation on the magic we know from her magazine work. The result is a maddening, unsettling masterpiece, and, yes, you will be moved and inexplicably grateful at the end."—NPR

"In her witty and well-observed debut, Taffy Brodesser-Akner updates the miserable-matrimony novel, dropping it squarely in our times. . . . Brodesser-Akner has written a potent, upsetting and satisfying novel, illustrating how the marital pledge—build our life together—overlooks a key fact: There are two lives."—The New York Times Book Review

"Electric . . . Brodesser-Akner's first foray into fiction—set in Manhattan, the Hamptons, and Israel—is funny, stylish, and insightful, whether describing men's challenged communication skills or the knife juggler's agility required to maintain a modern marriage."—O: The Oprah Magazine

"Taffy Brodesser-Akner's sharp debut novel is packed with humor and heart. In it, the titular trouble begins when Toby Fleishman realizes that Rachel—his wife of 15 years, from whom he's now separated—is missing. Where has she gone, and why? This book will have you racing through the pages to find the answers."—Southern Living

"Everything you could wish for in a satisfying summer read . . . Taffy Brodesser-Akner's page-turner doubles as a satirical take on modern relationships."—Women's Health