You are here
Back to top
Truth & Beauty: A Friendship (Paperback)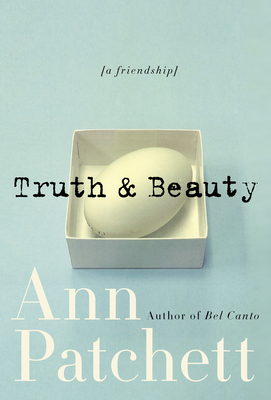 $19.00

Usually Ships in 1-5 Days
Description
---
"A loving testament to the work and reward of the best friendships, the kind where your arms can't distinguish burden from embrace." — People
New York Times Bestselling author Ann Patchett's first work of nonfiction chronicling her decades-long friendship with the critically acclaimed and recently deceased author, Lucy Grealy.
Ann Patchett and the late Lucy Grealy met in college in 1981, and, after enrolling in the Iowa Writer's Workshop, began a friendship that would be as defining to both of their lives as their work. In Gealy's critically acclaimed and hugely successful memoir, Autobiography of a Face, she wrote about losing part of her jaw to childhood cancer, years of chemotherapy and radiation, and endless reconstructive surgeries. In Truth & Beauty, the story isn't Lucy's life or Ann's life, but the parts of their lives they shared together. This is a portrait of unwavering commitment that spans twenty years, from the long cold winters of the Midwest, to surgical wards, to book parties in New York. Through love, fame, drugs, and despair, this is what it means to be part of two lives that are intertwined...and what happens when one is left behind.
This is a tender, brutal book about loving the person we cannot save. It is about loyalty and being uplifted by the sheer effervescence of someone who knew how to live life to the fullest.
About the Author
---
Ann Patchett is the author of novels, works of nonfiction, and children's books. She has been the recipient of numerous awards including the PEN/Faulkner, the Women's Prize in the U.K., and the Book Sense Book of the Year. Her novel The Dutch House was a finalist for the Pulitzer Prize. Her work has been translated into more than thirty languages. TIME magazine named her one of the 100 Most Influential People in the World. President Biden awarded her the National Humanities Medal in recognition of her contributions to American culture. She lives in Nashville, Tennessee, where she is the owner of Parnassus Books.
Praise For…
---
"More than truth or beauty, it is love" — San Francisco Chronicle
"This is a loving testament to the work and reward of the best friendships, the kind where your arms can't distinguish burden from embrace." — People
"Unforgettable...carefully rendered and breathtaking." — Chicago Sun-Times
"An inspired duet...riveting." — New York Times Book Review
"A work every bit as entrancing, daring and smart as her fiction—channels her grief.[into] an electrifying portrait of Grealy, a bravura self-portrait and a stunning and insightful interpretation of an epic friendship...A generous and virtuoso performance." — Atlanta Journal-Constitution
"This frank, perceptive book can be read in many ways, not only as a story of friendship but also as a young artist's eye-opening introduction to the wider world." — New York Times
"If this honest book sends new readers out in search of Grealy's memoir, Patchett will have served her friend's memory well." — USA Today
"In her first nonfiction, novelist Patchett paints a deeply moving portrait of friendship between two talented writers, illuminating the bond between herself and poet Lucy Grealy...a tough and loving tribute, hard to put down, impossible to forget." — Kirkus Reviews (starred review)
"Dazzling in its psychological interpretations, piquant in its wit, candid in its self-portraiture, and gracefully balanced between emotion and reason, this is an utterly involving and cathartic elegy that speaks to everyone who would do anything for their soul mate." — Booklist (starred review)
"[Truth & Beauty] shares many insights into the nature of devotion...This gorgeously written chronicle unfolds as an example of how friendships can contain more passion and affection than any in the romantic realm." — Publishers Weekly
"...lyrical, lovely...Patchett has preserved her friend's talent in this book, and provided more evidence of her own." — BookPage
"{a} loving, clear-sighted portrayal.." — Elle
"A contemporary story of friendship and the writing life at once intense, honest, and heartbreaking. Highly recommended." — Library Journal (starred review)
"An exquisite account of the close yet painful friendship...This is an intimate look into the lives of two successful writers, and the psychological demands of an extremely close friendship that ultimately ends in tragedy." — Chicago Tribune
"Patchett's is a book with a vortex at the center, and it's magnetic." — Boston Globe
"The reader mourns not only the loss of Lucy but the loss one feels when the pages of an enthralling book begin to thin and, as if suddenly, there is no more to read." — Wall Street Journal
"...a moving companion to Grealy's [Autobiography of a Face]." — The New Yorker